I Made Them Run Away
I Made Them Run Away is a multi-layered story weaving together archive material and photographs with texts written by the artist's mother. It brings together past memories and present feelings to reflect on the dynamics of relationships – the need for attention, expectations that cause disillusionment, insecurity, and judgment. Shifting between the different points of view, Zanin depicts the recurring complicated triangle relationship between she, her mother, and the 'man', not constant, represented as an absence.
The poetical writings addressed to an imaginary man, clash with the torn family images, from which her mother tore off all her ex-boyfriends creating objects saturated with anger and loneliness. Every other picture is the artist's inner reconstruction and expression of past feelings and sensations that become apparent in the present.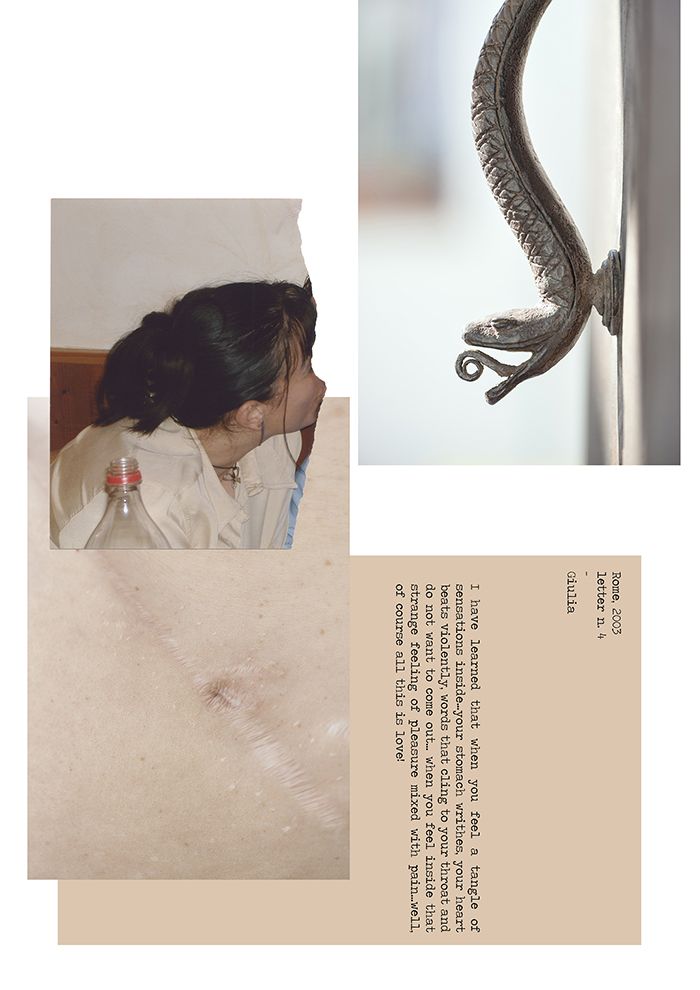 Martina Zanin
(San Daniele del Friuli, IT, 1994)
Her artistic practice, linked to her personal experiences, addresses themes such as memory, relationships, and emotions. She uses photography often associated with other media, such as text, archive material, video, and sound, thus creating multi-layered narratives within which narrative spaces and perceptions intertwine. Her photographic, visual language is characterized by a poetic expression.
Zanin is the author of I Made Them Run Away published by Skinnerboox, 2021. She is the winner of Cantica21. Italian Contemporary Art Everywhere supported by Ministry of Foreign Affairs and International Cooperation and Ministry of Culture, Camera Work 2021, and Images Gibellina. Her work has been exhibited in solo and group shows at the European level. Zanin is represented by studiofaganel.
> Lisbon > Heritage: Emanuele Camerini, Valentina D'Accardi, Martina Zanin