SPAZI VUOTI – SPAZI PIENI
(Empty Spaces – Full Spaces)
Series of diptychs made during the Aux Heures d'été Festival in Nantes (France), in the summer of 2012. I developed this photographic project starting from a specific intention of the Director of the Association Culturelle de l'été (organizer of the Festival, where I worked as a backstage photographer): using photography to visualize the impact of the public on the Nantese territory. This series focuses on the physicality of city space, where flows of people continually fill and empty urban spaces. This is a reflection on space as a vehicle for ideas, on the city-container of people gathered around the same intention (the festival). Empty cities are suddenly filled with bodies, ideas, voices, words. In a context where the change of a place is the product of exchanges between people, material and immaterial mix within a single container: the city, a coagulator of multiple passing solitudes, gathered around a sole purpose.
Project presented in Giovane Fotografia Italiana #02 | CHANGE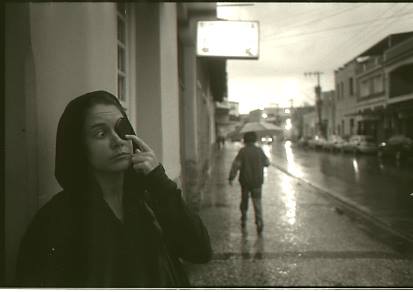 BIO
ANNA TRENTO
(Padova, IT, 1986)
She studied languages in Bologna and photography at cfp Bauer, Milano. Photographer, social worker and Italian teacher to foreigners abroad and to migrants in Italy.
She has been living in Brazil, Portugal and Honduras. Three years ago she quit her job to graze goats, learning the art of dairy farming. Now back in her homeland, she is a cheesemaker and together with two other women runs an artisan dairy at the foot of a stable.
Among the exhibitions, publications and awards: "Claudia" – Best Short Film Award in the official section of CinHomo, Muestra Cine LGBT'17; "Carretera Cartonera" – 9th Festival de Cine Invisible in Bilbao – special mention by the jury in the Sustainable Development category, 2017; International, 2017; 12 Months film festival, Official Selection, 2016; Ficams / V Festival Internacional de Cine de la Antartica sobre Ambiente y sustenabilidad, Official Selection – Punta Arenas, Chile, 2016; European Photography, Young Italian Photography # 2, 2013; Padua Photography Festival, 2013; New Signals (Pd), 2012.