2022, JUNE 9 – JULY 30
OPENING: June 8th at 7 pm
HOURS: every day 10 am – 6 pm
Giovane Fotografia Italiana nel Mondo
Nomadic Life
The complex relationship between mankind, nature and technology is at the center of the works by Marina Caneve, Irene Fenara and Vaste Programme. A natural environment, increasingly altered by human intervention, is restored through the use of complex technological equipments highlighting the strong contradictions of control systems, the right to free movement and natural landscapes.
BRIDGES ARE BEAUTIFUL
Bridges are Beautiful is a research project that takes the Natura 2000 network as a reference for researching the place that human beings occupy within nature. This network is a series of ecological corridors promoted by the European Union, created to preserve fauna, flora and biodiversity. It is a transnational communication system that goes beyond the border policies of each state, and puts ecological logic first. Bridges are some of the most important infrastructures in the network, since they make it easier for animals to overcome architectural barriers such as motorways and roads. At the same time, multiple fences and security cameras monitor and follow their movements, casting doubt on their apparent freedom of movement.
Marina Caneve's work explores the tensions that emerge from the power that human beings try to exert over nature. To do so, she analyses the contradictory relationships between infrastructure construction, policies and freedom of movement, and nature conservation.
SUPERVISION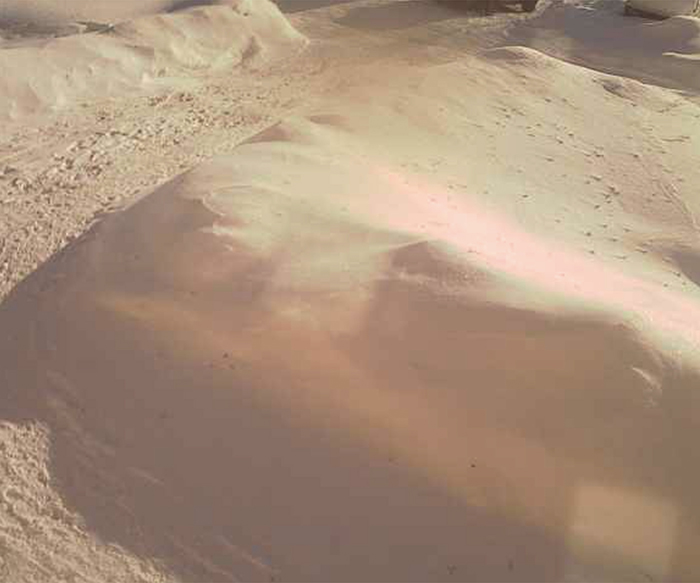 With Supervision Irene Fenara presents a selection of images taken from surveillance cameras, and saved from the continuous stream that erases them every 24 hours, underlining the contrast between a highly functional activity and an equally powerful aesthetic. The aesthetics of surveillance, supervision and control are realised through devices that frame the amplified vision. The relationship between the observer and the observed is marked by the entry into a world of post-privacy, through the use and dissemination of protected data, extrapolated from their context of origin.
THE LONG WAY HOME OF IVAN PUTNIK, TRUCK DRIVER
Shaped as a visual diary, the work tells the story of Ivan Puntik, a Russian truck driver who shot hundreds of pictures across all of Siberia on his long journey to go back home. However, some details may raise doubts about the veracity of what is presented. All the images are in fact screengrabs, portions of spherical photographs, originally taken in Russia by ordinary users, and then uploaded to Google Maps. Through the expedient of fictitious narrative, the project merges the practices of adoption and resignification of images. At the same time, it raises some relevant issues, related to the impact humans have on the environment and on the landscape.
---
ALGIERS